Our goal is to turn every project we take on into a lifelong client relationship. Now in business for nearly 20 years, we have the experience and expertise to guide our clients to make their dream technology system, become a reality and provide a memorable customer experience.
We are proud to have built a team of experts, who truly take pride in the Acoustic Design brand and the service we deliver. We work hard every day to exceed our client's expectations by engineering reliable integrated audio, video, security and automation systems that are both simple to use and perform impressively.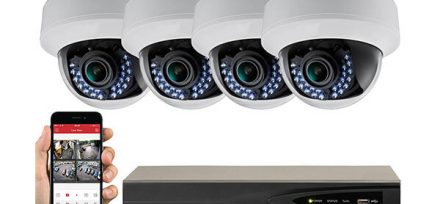 Monitored Alarm systems and cameras ensure your home or business is protected.
What our clients have to say...
I just want to say how amazing the team has been since purchasing our new home and taking on an existing system. Christopher Sterle, Darren Filardo, and Alexxis Arcon have gone out of their way to help us - truly amazing. I can't thank them enough - really special service all around!

Jeff Markowitz
15:49 24 Nov 21
Acoustic Design Systems was a life saver. New to the area, the home alarm and automation system in the house we just purchased was not working. Darren from Acoustic was at our house in a couple of hours after we called and we got us taken care of very quickly. Everyone at Acoustic has been very professional and quick to respond. We highly recommend them.

Patricia Jacobson
22:45 01 Nov 21
Buddy and his crew were great with the install. Very communicative about the process and when to expect items for install. His team helped my husband with a custom job for all of our tv's and went above and beyond. Very pleased thus far.

Larissa Tomanek
18:35 31 Aug 21
Buddy and his team at Acoustic Design Systems are very professional and reliable. The A/V and connectivity system they put into place for our home was installed correctly and without any issues.

Jonathan Hsu
17:16 19 Aug 21
Buddy and the crew were awesome! They were here on time, very professional, tidy and very knowledgeable! Would definitely recommend them to anyone.

Jeri Kochis
15:51 18 Aug 21
Sean G was very helpful, friendly, professional and patient with both my wife and I in selecting a product perfect for our home. Demetrius our installer was just as helpful and patiently answered all questions we had. Annie in the office was also very friendly and helpful! Thank to your whole team!!

Bruce Alexander
19:20 13 Aug 21
Fabulous work! We love everything that was done. And support is stellar. Will definitely use AD again!

Elissa Burda
17:45 04 Aug 21
We just moved into a new house and had Acoustic Design design and install all of the AV systems. We are very impressed with the professional and knowledgeable crew both pre and post construction! Looking forward to having them keep us connected for years to come.

Kimberly Wold
23:30 30 Jul 21
I recently installed all of my tv's, audio and security equipment with Acoustic Design. My experience with them was amazing and their work is excellent! I want to thank Buddy and the installation team for all of the work they did to make sure it was what I wanted. Everything was perfect!!

Absolutely an Acoustic Design customer for life!! Top notch service , quality installation and knowledgeable team make this excellent company the best in the business!

Nana Allen
02:50 30 Jul 21

JB White DDS
15:03 07 Jul 21
Sean and his team were awesome! Very professional and extremely knowledgeable in all areas. I would highly recommend them for any home stereo, security or automation needs.

Michael Ditore
17:49 28 Jun 21
Acoustic did phenomenal job. Buddy and Jay were knowledgeable and caring. They did everything they promised and more.

Pete Chmielarski
03:02 23 Jun 21

Buddy was very knowledgeable and professional. He responded to all my questions in a timely manager. He also thoroughly explained everything I was looking for so that I could make the best judgment for what I needed for my house. I would definitely recommend him to my friends and family.

I needed a very simple project completed- to run an ethernet cable from my downstairs family room to my upstairs office so that I could have the best hardwired Internet. The acoustic design team was professional, on time, and did the work with precision. The best part was they only had to cut one small hole for fishing the cable about 20-25 feet across the house through the ceiling and up to the wall of the room upstairs. They are great at what they do!!

Gina Yager
16:35 14 May 21
Acoustic Design Systems is the leader not only in acoustics, but all things home automation. Upon a friend's recommendation, I utilized their services for a surround sound system in my house as well as outfitting my outdoor patio with sound and outdoor mounted television. The work was stellar. The crew was amazing. They were friendly, knowledgeable and clearly experts in their field. John was such a perfectionist that he would not consider the job complete until the sound from the inside TV was synced (no delay) to the TV outside. Even when I said it sounded fine, he said "no it's off" and kept going. I enjoyed working with this company so much that I have now hired them for a second project. Call Sean. You won't be disappointed. If you want something done correctly, Sean will make it happen!

Victoria O
15:12 14 May 21
Everything was SO smooth and easy from start to finish. Blair was very sweet and helpful in explaining the system and answering my questions. I'm very happy with the quality of the equipment too. I highly recommend this company and will use them for everything I need always!

Jessica Watson
02:03 05 May 21
Buddy Kliger was excellent to Work with. He and his associates John and Garret truly know the Ins and outs of house acoustics and computer networks. They are prompt, professional, and courteous. We were introduced to Buddy and Acoustic Designs through a previous purchase in Granite Heights with Toll Bros that did not actually go through. We kept his number because we knew any further home acoustic needs would require his knowledge. We were not disappointed. Thank you very much! We will be passing your name to everyone we know because we value your great business ethics and knowledge! The Regen's

Dennis Regen
17:21 04 May 21
My experience with Acoustic Design Systems has been nothing but fantastic. Buddy is a wonderful sales rep who really listened to what I wanted to achieve for my Smart Home. He even followed up throughout the installation process. Jay was the lead installer for my house. He and his team worked on and treated my home like they would theirs. This company's work ethic and process is one many others should learn from and follow. I highly recommend them for all your AV needs.

L Anderson
23:34 25 Apr 21
The nice folks at Acoustic Design Systems built and installed an excellent smart home system for my new house. They pre-wired the house during the framing stage of construction backhauling to a wiring closet.From the alarm system to the security cameras, rack in the wiring closet, wall mounted televisions, in ceiling home theater speakers, receivers and amplifiers, optical network terminal, smart lighting and smart locks, all cleanly integrated.They walked me through all of the options for my new home, making me feel comfortable every step of the way. From sales to their technicians, every person at the company was a pleasure to work with. I am very happy as a customer and would recommend them to anyone.

Justin Lundy
23:30 15 Mar 21
Excellent Job! Most up to date technical equipment. The surround sound and audio visual experience is over the top. The installation team are geniuses. Can't wait to have people over!

Irene Oseland
23:10 02 Mar 21
Acoustic Design Systems helped us with a great audiovisual and security system. Their team was very courteous and prompt. They were very patient and good with explaining everything we needed to know about the system we were getting.

Craig Sullivan
06:07 26 Feb 21
Great company! We have uses them for our home and our office for years and they are consistently great! Highly recommended 🙂

Cassie Mor
21:19 16 Feb 21
Good job in putting the system together. Especially since i'm quite opinionated, and put together a large part of the system myself. Acoustic Design worked me with to enhance my existing infrastructure and to build on what I had already.

Michael Hein
18:22 03 Feb 21

angelle curry
16:07 23 Jan 21
There simply is no better Company to work with for all of your Alarm, Sound, Camera needs and much more from a Security standpoint! They are second to none! Specifically enjoyed working with the Team Lead Sean, along with his genius crew, Big John, and Jay! However their entire team performed splendidly while having my home built and fitted with upgrades. They left no stone unturned. I feel completely safe as a new widow!!! I completely and fully recommend Acoustic Design Systems for your home and office needs! You WILL NOT be disappointed! 👉🏽🙌🏽👈🏽

Bev BamBam
18:49 05 Jan 21

Wayne Magdziarz
02:29 18 Dec 20
Austin Fitzgerald, Demitri, and Diego are assets to your company. Extremely knowledgeable of how to put together a smart house.Always on time and very professional.Please thank them for me for their expertise .

Debra Coryell
19:32 16 Dec 20
My wife and I were pleased with the knowledge, workmanship, and cleanliness with the work that was preformed at our home. While the young men were working we had questions about things, they stop what they were doing and answered our questions. They never made us feel like we were bothering them, a very good customer service skill. If you choose Acoustic Design you will not be disappointed when the work is completed. The quality of the equipment is outstanding as well.Ed and Dorris Jordan

First of all, in addition to the professionalism, friendliness, and expertise from Sean, who assisted me with everything, to the wonderful installers, who were very pleasant to work with! It was a great experience!Their products are excellent quality and price point is great too!They were always there if I had any questions about my system and helped me with anything I needed!I 100% recommend them!

Sandra DeRosier
20:19 11 Dec 20
We recently had Acoustic Designs set up TVs and a sound system for our new home and we've been extremely impressed with their level of service. All the technicians have been professional, knowledgeable, & courteous, and the couple of minor issues we've had since installation have been addressed quickly. The 24/7 support was amazing when we had a question on our first night (a Friday evening) in the house!

Nikki Mora
22:32 10 Dec 20

Wayne Nardolillo
22:01 03 Dec 20
From consultation to installation Buddy and his team offer a seamless and professional experience for all your electronics needs.

Barbara Engstrom
02:12 02 Dec 20
An amazing experience from beginning to end. From sales (Sean) to service and instal team(John & Jay) their knowledge and professionalism was exceptional!!!

Alexandra Malone
18:00 23 Nov 20
I can't say enough great things about this company. The prompt responsiveness from Buddy with all my questions was fantastic. My install was not easy considering my home was already built but they managed to do it all with one hole nothing a little drywall and paint can't fix. Very professional and takes the time to go over how to use the equipment and follow ups.

Anela Olsen
04:17 19 Nov 20
These guys are awesome to work with. Loved Buddy and Matt and the rest of the team. I just love everything that they put into the house and the backyard. Thanks guys!

Rocky FInseth
04:25 17 Nov 20
Sean at Acoustic Design provided recommendations for the services and equipment required for our needs, while at the same time reducing costs when possible. The installation crew, Jay and Dimitri, were courteous and professional and expeditiously completed their tasks. When the installation crew left they made certain their work areas were spotless. Highly recommend Acoustic Design and We will certainly use them for any future need or service Acoustic Design provides.

Acustic Design took the the time to understand the issues and the approach was professionally planned out and flawlessly executed.

bruce gillespie
16:01 16 Oct 20
I would give them 6 stars if I could. They did our alarm system, our camera system, home networking, and a few various AV items. Every single tech was polite, professional, and extremely competent. All the work done was top notch. I have zero complaints and would re-hire them again in a heartbeat.

Jeff Douglass
03:55 03 Oct 20
The customer care service and install were exceptional. They completed the install of all our video, sound, networking in a Friendly and professional manner. The crew that performed the work were outstanding and very helpful and patient working with a network challenged customer! I would strongly recommend them to anyone anytime!

Steve Kroll
15:00 27 Sep 20
The technicians were highly qualified and exceptionally professional. They were very nice people and very friendly and respectful. The company is top notch and the sales person Buddy is an excellent ambassador for this high end business

michael joseph
02:09 12 Sep 20

Kenny O'Connell
21:29 25 Aug 20

Stan Olsen
20:51 21 Aug 20
Sean Goldfinger at Acoustic Designs was great. We had a home built for us and he assisted us with how we wanted our Audio/Visual Equipment to be in our home and what equipment was needed to accomplish what we envisioned, large TV, surround sound, music, etc.. He also assisted us with choosing the appropriate security features/equipment for our home. Sean was always professional, knowledgeable and patient with us. When it came time to install and set up the equipment, Austin, Austin (yes, two Austins) and Patrick were on time, professional, extremely helpful with explaining the process and how the equipment worked, and cleaned up after themselves. Overall, they are worth every penny! I strongly recommend them to anyone who is in the market for audio/visual and security equipment and installation. Reach out to Sean Goldfinger, you won't be sorry!!

Yvonne Morales
17:56 11 Aug 20
Totally reliable and knowledgeable. Very conscientious and detail oriented. Owner, BuddyKliger is a man of his word and sincere when he tells you we can call him for any questions. Great job that grants you peace of mind in a situation when you most need it.

Art Bejarano
01:47 11 Aug 20
Great team, Sean and the others were very helpful and did a great job with the setup

Detailed, professional, outstanding work especially by Travis and Buddy. Will definitely use again for any future needs.

Morgan Pomeranz
00:22 08 Aug 20
From initial visit and follow through Darren was the ultimate professional. The tech crew was amazing. Matt and Big John hands down incredible And ,knowledgeable

joan burton
23:10 04 Aug 20
We met Buddy at the design center for our new home. We were already familiar with home automation and had a long standing relationship with another company in California. Acoustic Design Systems did not disappoint. Awesome Austin was our programmer and made the whole process easy. We would HIGHLY recommend this company for any technology you would want in your home.

Stan Baker
23:06 06 Jul 20
We have worked with many vendors in our 15+ years in Las Vegas. We would put ADS at the top of the list in terms of product knowledge, professionalism, and commitment to customer satisfaction. We will be recommending ADS to our friends.

Ross Ohanley
02:55 28 Jun 20
Acoustic Design was great to work with. We are new to the area and they walked us through the updates they were making, answering all our questions. They were very thorough and helpful.

Missy Hamann
16:30 22 Jun 20
Acoustic Design recently replaced my CCTV System, added IP Control and security lighting. The work was done professionally and with high quality. The sales and technician were very pleasant and accommodating. I moved to Las Vegas (5) years ago. Acoustic Design installed/services all my residence electronic needs in security, AV, internet, etc. and it's been a rewarding experience.

Our sales and installation team at Acoustic Design Systems are top notch! They were able to incorporate all of our audio/visual and home security needs into an easy to use and totally efficient design. The team was very respectful and attentive throughout the installation process and we were tremendously impressed with their professionalism. They patiently walked us through instructions for using the system and made sure we understood each concept as we proceeded through the demonstration. We highly recommend Acoustic Design Systems for all of your electronic needs.

Rodney Rideau
17:30 01 Jun 20
Buddy and his crew are amazing! They really know their stuff. Our audio visual system is very old. Buddy helped me find the most effective and cost efficient way to get it working again.

Pamela Ellis
23:06 10 May 20
Acoustic Design Solutions is a great company to deal with. They have reasonable prices, use good quality components and have excellent customer service.The staff is knowledgeable, friendly and helpful. I had my initial system installed when we purchased the home and recently had them upgrade our network. We love the results! You will too. Give them an opportunity to earn your business.

Damien Weaver
03:15 28 Apr 20
Everyone who worked on my installation was wonderful! They were professional and diligent. They did not leave until the everything was working perfectly. I would never use any other company for installation or service.

Lisa Roche
15:11 14 Apr 20

Andrea Kazaniwskyj
16:44 03 Apr 20

They did an amazing job in my home. Full home automation.

Kamran Zand
15:44 09 Mar 20

Dawn Burns
23:54 06 Mar 20

Maria Destro
00:09 03 Mar 20
A well earned 5-stars for Buddy and the team at Acoustic design. From the initial meetings to the implementation of our network, home entertainment and security, the team could not have been more helpful and thorough in their approach to achieving systems integration. They have an a la carte option of equipment but are willing to adapt their architecture to accommodate for most individuals' requests. The installation was well planned and very detailed even to the point of ensuring they left our home very clean. Their chief installer Austin is a true asset to the company with a very patient personality. There are not many companies in the valley that can live up to this level of service. Well done!

Great crew! The install was fun. Very dog friendly too.

MARK WILDES
19:51 22 Feb 20

Natalie Riley
20:32 17 Feb 20
I've had a very positive experience with ADSLV from design, to installation, system education and now enjoying the many aspects of the linked, vibrant and delightful audio and video systems and security that they created based on my wish list.All of the members of each team-Design, AV, Security, Smart home set up etc are bright, polite, neat, enthusiastic and response "Geeks" who patiently demonstrated and educated me on each aspect of the systems and left written "non-geek" instructions without overwhelming us. They even helped set up apps to control and monitor systems from anywhere our smart phones function.Their prices are competitive for the superior insight and well orchestrated service, high end technologies they install, and back up they offer.They show up on time, do everything they promise and leave no trash behind. They even respond to emails and texts in a timely fashion.Thank you for making my home....and me "smarter" and more secure!

Edward Zimmerman
10:54 12 Feb 20
Awesome company. Personalized service and system. Installed everything, and taught us how to use all the gadgets. Would highly recommend.

Fabulous Connie
04:24 06 Feb 20
Excellent company and highly skilled installers.

Great custom audio, television and environmental tech provider. They use the most current products and provide at reasonable pricing.

A.C. Ansani
22:24 04 Feb 20

Lance Dalton
22:03 27 Jan 20
Sean and his team from Acoustic Design were Exceptional!! They upgraded my WiFi system and were extremely professional, curtious and prompt in every aspect of my project!! Sean always returned my text messages with any questions or concerns I may have asked him right away. He clearly explained the entire process prior to my install. He was so easy to work with..I cant say enough great things about him! John my install tech also did an amazing job installing and getting everything up and running properly!!This company is Top Notch!! Always on top of everything and getting things done expediently!! I would highly recommend Sean and his team to anyone looking to have any low voltage, audio video, WiFi work done in their home or business!!

Belinda Feeney
17:40 13 Jan 20
I was extremely happy with the job performed at my home. They are very professional and knowledgeable. I highly recommend everyone to use them.

Madelyn Katz
18:03 10 Jan 20
Acoustic Design Systems is the BEST! Home Automation - Audio/Visual - Security System Company in town! The quality of of service is Exceptional! This the 2nd home they have setup for me. No issues whatsoever. I would recommend them without hesitation.If you want your Home Theater, Home Automation, and/or Home Security Camera System done right- Look no further. Chris - Darren and Matt are the best! A.D.S. All the way! Thanks Guys!Charles H. - Summerlin- Las Vegas, NV

Charles Hank
15:03 10 Jan 20

From Start to finish the experience was great. Took time to listen to the needs we had. Designed a perfect system and installed it with flawless quality. Explained all the logistics for use and has been available with any questions after. Legit 5 stars:

Michael Lawruk
20:56 09 Jan 20
ADS is a first class operation. I was impressed with the level of detail the sales person provided me to set up my new home. From security to CCTV to a television, nothing was missed and the final products are amazing!The AV crew and Security installers were all excellent! The took care to protect my new home from flooring to clean up. I look forward to using ADS again in the near future. They are not cheap, but their product selection and installers are worth the money!

萨盾 Bill Sutton
00:15 18 Dec 19
always professional . awesome results . highly recommend for anyone building or upgrading their smart home!

steven tubbs
23:14 10 Dec 19
The team at Acoustic Design Systems did a very professional and efficient installation. We are very pleased with the overall service and would certainly recommend using their company to anyone.Sincerely, Peggy and George Connor

George Connor
18:00 25 Nov 19
Buddy and his crew were highly professional throughout the entire process, from the our introductory meeting to the post-install follow up. Buddy was very thorough and patient when giving us all of the options. The install was efficient and the workmanship high quality. Highly recommend and will use them again for future AV and security needs.

Timothy Browder
04:07 19 Nov 19
From our first meeting with Sean Goldfinger, working with Acoustic Design Systems , and each of their employees , has been a great experience. Sean, Austin, and Dimitri have all been exceptionally competent and extremely knowledgeable. In addition each of them has been receptive to all our questions, regardless of how elementary our inquiries may have been. Sean has always responded quickly and conducted all business in a professional, yet very friendly, manner. We are proud to recommend Acoustic Design Systems.

Jim Schettig
15:15 13 Nov 19
They were efficient, extremely knowledgeable and took the time to walk us through their install and how to maximize our use of the equipment. Further, they exceeded expectations with their customer service- even responding on off hours during an outage of service to pinpoint the issue. Highly recommend them.

peter jauch
17:29 22 Oct 19

Kurt Sullivan
14:59 22 Oct 19
I am somewhat of an audiophile, reasonably sophisticated about A/V systems and components and old enough to have had quite a bit of experience with systems for music and home theater. ( I am not particularly into home automation and don't speak to that area.) Acoustic Design Systems is by far the best service provider/seller I ever have worked with at any level from systems integration, retail and on-line. Chris Sterle and his staff, from sales, installation, office and customer service are all first rate, knowledgeable, committed to quality and, well, nice. They all clearly enjoy their work and take pride in it. They understood exactly what i was after in terms of system and component performance characteristics. They treated me fairly and openly and without exception did exactly what they said they would do exactly when they said they would do it. I cannot conceive of working with anyone else.

Chuck Troe
20:42 17 Oct 19
Great customer service and I can't say enough about how diligent and knowledgeable the techs were who installed my TV and alarm system. I'll be calling on them again!

Jeff Shein
02:36 09 Oct 19
We were very pleased with everyone we interacted with at Acoustic Design.Buddy walked us through all of our choices and I was always confident that he wouldn't let us choose options that we didn't really need. Even though our project is complete, he is always available to sort things out for us (or sort us out) when necessary.The technicians who installed the equipment in our new house clearly knew what they were doing, they were competent and courteous and got the project done in the time frame that we had all agreed on.If we have another project like this, we won't hesitate to go back to this team.

Sandy and Jeff Rush
02:51 30 Sep 19
Excellent and knowledgeable team to work

After buying a new house I was hesitant about spending more money with Buddy, but it was the best investment I made within the house. I didn't fully understand what was involved but Buddy integrated all 9 of our televisions with the audio systems throughout the house and patios, in addition to adding in a video security system. Buddy and his team were very professional and took the time to answer all of our questions. I am very impressed by the end result, the system is easy to use and works flawlessly. I highly recommend Buddy and the team, you will be very happy with your system and the envy of all your friends!

Sara Price
05:04 24 Sep 19
Sean, John, Travis and Sergio did an awesome job! They were very professional and provided useful education and demonstration that benefitted us.

Joseph Rodriguez
18:55 23 Sep 19
Very professional, on time and knowledgeable about TV, WiFi and security system installation

Patti Wise
01:20 14 Aug 19
Great service and very professional. Very happy with their work.

Diana Lubeck
19:32 08 Aug 19
Very professional and responsive to questions. Top notch service and Sean is the BEST!

Mischelle Bain
14:30 02 Aug 19
We met Sean through the Toll Brothers build and liked him so much we decided to use Acoustic Design for our new home once we moved in! The price match is great for all products! We picked what we wanted (with some help:) and they brought everything and installed! Everyone from start to finish was awesome and helpful! Super happy and would highly recommend Acoustic Design!

Jill Shook
02:23 27 Jul 19
Buddy and his entire team were wonderful! They listened to what we wanted & then delivered. The team were great and cleaned up everywhere they worked when they finished. I can highly recommend everyone!

The team was extremely professional through the entire installation. They went above and beyond to trouble shoot some difficult items and made sure that the new system functions exceptionally.

Tom Fallon
19:29 09 Jul 19
5 star service & knowledge.Will recommend to everyone!

Thank you Acoustic Design. I love my new Outdoor sound system and Sonos amp. It's completely changed our patio and backyard atmosphere. Whether you're working in the yard, swimming, or entertaining it's a game changer.

Penny Bigelow
18:39 04 Jul 19
Excellent service, did not try to over sell products I did not need or want.Technicians are very professional , polite, and hardworking.They also have tremendous follow up help after installation.I would highly recommend this Company for all your Audio and Electronic needs.

Susan Warrington
18:19 28 Jun 19
Acoustic Design did an amazing job at my new home. We are in a terrible area to get the internet and the guys have set us up so we have no more worries at our house. From our alarm, to our internet's and to our TVs and audio, we are dialed in thanks to AD. Can't be more satisfied, worth every penny.Ed

Edward Fryatt
06:39 25 Jun 19
The Best!We have worked with Acoustic Design Systems on several upgrades to our home: home automation, surround sound system, security system, cameras, lighting, etc.We have been very pleased with their customer service, installation, and products. Our sales representative "Buddy" is straight forward and always keeps his word. In addition, we have been especially happy with all of the knowledgeable, clean, and professional installation reps. And if we ever have questions regarding our equipment they respond immediately.This company is really top notch. We feel secure knowing that Acoustic Design Systems has our back!

Have an upcoming project?
With a fleet of over 30 fully stocked professional vehicles, we have all the tools needed to be successful in the field. Along with a full team of support staff working behind the scenes, we truly care to deliver the best product and customer service possible. We are continually investigating and working closely with our product manufacturers on the latest innovations in the technology industry, to ensure that our clients are getting the most out of their investment. No matter the size project, we are able to take a project from conception to completion quickly and professionally!