Our goal is to turn every project we take on into a lifelong client relationship. Now in business for nearly 20 years, we have the experience and expertise to guide our clients to make their dream technology system, become a reality and provide a memorable customer experience.
We are proud to have built a team of experts, who truly take pride in the Acoustic Design brand and the service we deliver. We work hard every day to exceed our client's expectations by engineering reliable integrated audio, video, security and automation systems that are both simple to use and perform impressively.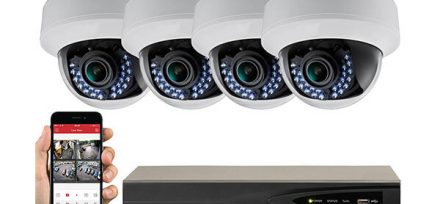 Monitored Alarm systems and cameras ensure your home or business is protected.
What our clients have to say...
We've worked with Acoustic Design since they installed our original home media center approximately 7 years ago and currently use their home alarm monitoring services.We recently upgraded that media system and Buddy did a great job of recommending new equipment while utilizing existing equipment. The installers came out and installed the new equipment, updated our existing Control4 hub, and cleaned up wiring in our data cabinet and behind the home theatre cabinet.We experienced a couple of minor bumps, which were addressed promptly through Brandon in the service department - overall, a great experience and we're glad to work with a professional company stands by their service and looks out for their customers.

Eric Nelson
18:39 20 Sep 21
Buddy and his crew were great with the install. Very communicative about the process and when to expect items for install. His team helped my husband with a custom job for all of our tv's and went above and beyond. Very pleased thus far.

Larissa Tomanek
18:35 31 Aug 21
Buddy and his team at Acoustic Design Systems are very professional and reliable. The A/V and connectivity system they put into place for our home was installed correctly and without any issues.

Jonathan Hsu
17:16 19 Aug 21
Buddy and the crew were awesome! They were here on time, very professional, tidy and very knowledgeable! Would definitely recommend them to anyone.

Jeri Kochis
15:51 18 Aug 21
Sean G was very helpful, friendly, professional and patient with both my wife and I in selecting a product perfect for our home. Demetrius our installer was just as helpful and patiently answered all questions we had. Annie in the office was also very friendly and helpful! Thank to your whole team!!

Bruce Alexander
19:20 13 Aug 21
Fabulous work! We love everything that was done. And support is stellar. Will definitely use AD again!

Elissa Burda
17:45 04 Aug 21
We just moved into a new house and had Acoustic Design design and install all of the AV systems. We are very impressed with the professional and knowledgeable crew both pre and post construction! Looking forward to having them keep us connected for years to come.

Kimberly Wold
23:30 30 Jul 21
I recently installed all of my tv's, audio and security equipment with Acoustic Design. My experience with them was amazing and their work is excellent! I want to thank Buddy and the installation team for all of the work they did to make sure it was what I wanted. Everything was perfect!!

Absolutely an Acoustic Design customer for life!! Top notch service , quality installation and knowledgeable team make this excellent company the best in the business!

Nana Allen
02:50 30 Jul 21

JB White DDS
15:03 07 Jul 21
Sean and his team were awesome! Very professional and extremely knowledgeable in all areas. I would highly recommend them for any home stereo, security or automation needs.

Michael Ditore
17:49 28 Jun 21
Acoustic did phenomenal job. Buddy and Jay were knowledgeable and caring. They did everything they promised and more.

Pete Chmielarski
03:02 23 Jun 21

Buddy was very knowledgeable and professional. He responded to all my questions in a timely manager. He also thoroughly explained everything I was looking for so that I could make the best judgment for what I needed for my house. I would definitely recommend him to my friends and family.

I needed a very simple project completed- to run an ethernet cable from my downstairs family room to my upstairs office so that I could have the best hardwired Internet. The acoustic design team was professional, on time, and did the work with precision. The best part was they only had to cut one small hole for fishing the cable about 20-25 feet across the house through the ceiling and up to the wall of the room upstairs. They are great at what they do!!

Gina Yager
16:35 14 May 21
Acoustic Design Systems is the leader not only in acoustics, but all things home automation. Upon a friend's recommendation, I utilized their services for a surround sound system in my house as well as outfitting my outdoor patio with sound and outdoor mounted television. The work was stellar. The crew was amazing. They were friendly, knowledgeable and clearly experts in their field. John was such a perfectionist that he would not consider the job complete until the sound from the inside TV was synced (no delay) to the TV outside. Even when I said it sounded fine, he said "no it's off" and kept going. I enjoyed working with this company so much that I have now hired them for a second project. Call Sean. You won't be disappointed. If you want something done correctly, Sean will make it happen!

Victoria O
15:12 14 May 21
Everything was SO smooth and easy from start to finish. Blair was very sweet and helpful in explaining the system and answering my questions. I'm very happy with the quality of the equipment too. I highly recommend this company and will use them for everything I need always!

Jessica Watson
02:03 05 May 21
Buddy Kliger was excellent to Work with. He and his associates John and Garret truly know the Ins and outs of house acoustics and computer networks. They are prompt, professional, and courteous. We were introduced to Buddy and Acoustic Designs through a previous purchase in Granite Heights with Toll Bros that did not actually go through. We kept his number because we knew any further home acoustic needs would require his knowledge. We were not disappointed. Thank you very much! We will be passing your name to everyone we know because we value your great business ethics and knowledge! The Regen's

Dennis Regen
17:21 04 May 21
My experience with Acoustic Design Systems has been nothing but fantastic. Buddy is a wonderful sales rep who really listened to what I wanted to achieve for my Smart Home. He even followed up throughout the installation process. Jay was the lead installer for my house. He and his team worked on and treated my home like they would theirs. This company's work ethic and process is one many others should learn from and follow. I highly recommend them for all your AV needs.

L Anderson
23:34 25 Apr 21
The nice folks at Acoustic Design Systems built and installed an excellent smart home system for my new house. They pre-wired the house during the framing stage of construction backhauling to a wiring closet.From the alarm system to the security cameras, rack in the wiring closet, wall mounted televisions, in ceiling home theater speakers, receivers and amplifiers, optical network terminal, smart lighting and smart locks, all cleanly integrated.They walked me through all of the options for my new home, making me feel comfortable every step of the way. From sales to their technicians, every person at the company was a pleasure to work with. I am very happy as a customer and would recommend them to anyone.

Justin Lundy
23:30 15 Mar 21
Excellent Job! Most up to date technical equipment. The surround sound and audio visual experience is over the top. The installation team are geniuses. Can't wait to have people over!

Irene Oseland
23:10 02 Mar 21
Acoustic Design Systems helped us with a great audiovisual and security system. Their team was very courteous and prompt. They were very patient and good with explaining everything we needed to know about the system we were getting.

Craig Sullivan
06:07 26 Feb 21
Great company! We have uses them for our home and our office for years and they are consistently great! Highly recommended 🙂

Cassie Mor
21:19 16 Feb 21
Good job in putting the system together. Especially since i'm quite opinionated, and put together a large part of the system myself. Acoustic Design worked me with to enhance my existing infrastructure and to build on what I had already.

Michael Hein
18:22 03 Feb 21

angelle curry
16:07 23 Jan 21
Have an upcoming project?
With a fleet of over 30 fully stocked professional vehicles, we have all the tools needed to be successful in the field. Along with a full team of support staff working behind the scenes, we truly care to deliver the best product and customer service possible. We are continually investigating and working closely with our product manufacturers on the latest innovations in the technology industry, to ensure that our clients are getting the most out of their investment. No matter the size project, we are able to take a project from conception to completion quickly and professionally!