Home automation and security solutions company now offering comprehensive service plans for mid-market 'smart' homeowners in Las Vegas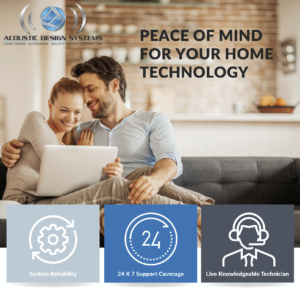 Las Vegas, Nev. – As consumer demand for home automation products and solutions continues to grow, Acoustic Design Systems (ADS) launches a comprehensive monthly service plan for proactively maintaining smart home technology systems in mid-market homes, high-scale custom homes and commercial facilities.
ADS is now offering this all-encompassing, innovative service support plan for technical support staff to remotely monitor and repair clients' residential or commercial automation networks, which can include a number of connected IP devices such as smart TVs and home entertainment systems, security cameras, video doorbells, automation systems, thermostat controls, lighting and shade controls.
"Homeowners are more connected to the technology within their homes than ever before," explains Christopher Sterle, founder and CEO of ADS. "Smart home systems need to be continuously updated and will have occasional disruptions, and until recently, our industry struggled to find a way for homeowners to have 24/7 support for home automation. Most service plan costs are out of reach for the mid-market homeowner, but now we have a way to proactively manage the connectivity of their entertainment, home office and controlled access systems to keep them operating efficiently and without interruption."
The new service plan enables technicians to work remotely and continually monitor the system's health and device connectivity, conduct network diagnostics, monitor WiFi state and speed, and perform product integrations during and outside of traditional business hours. Having a plan allows technicians to discover a home network's technology issues before the homeowner, effectively cutting service calls by 80%, lowering ownership cost and improving system reliability.
Offered as a monthly subscription, the service plan provides proactive and reactive remote monitoring and repairs, bi-annual firmware updates, app control, priority service visit scheduling, unlimited access to local technical support staff, and 24/7 email, text, phone and chat support. For any issues and repairs that require hands on assistance, on-site service is available Monday through Saturday.
ADS also offers virtual sales appointments for home-based businesses or homeowners interested in upgrading their technology infrastructure. With virtual appointments, clients are able to connect with certified technicians to schedule repairs, troubleshoot, or discuss upgrades to their existing wireless network, security systems and audio video needs in order to remain connected, safe, and entertained while adhering to social distancing mandates.
For more information or to purchase a service plan, call 702-648-7474 or visit www.ADSLV.com.
About Acoustic Design Systems:
Founded nearly two decades ago, Acoustic Design Systems (ADS) is the industry leader in commercial and residential home automation and security solutions. With 45 expert technicians and 25 service vehicles, ADS specializes in providing revolutionary, custom-designed solutions to fit every lifestyle, including integrated room controls, audio and visual entertainment systems, security and monitoring systems, fire systems, controlled access, acoustic panels, thermostat control, lighting and shade control and much more. The company offers support from start to finish, including design consultations, installation and tech support.
ADS is the exclusive home automation and security partner for Toll Brothers and has partnerships with William Lyons Homes, Jewel Homes and Pardee. ADS has worked on several commercial projects throughout Las Vegas including at Las Vegas Design Center, Caesars Entertainment and SouthBeach Apartments. For more information, visit www.ADSLV.com, and follow on Facebook, Twitter and Instagram.