New virtual appointments service connects business clients and sales technicians to remain productive, safe and connected.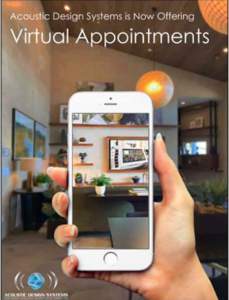 Las Vegas, Nev. – Utilizing its classification as an essential business for commercial and residential home automation, security and network solutions, Acoustic Design Systems (ADS) has begun offering virtual appointments to home-based businesses or residents interested in upgrading their technology infrastructure to remain productive, safe and connected during the COVID-19 pandemic.
"As an essential company we have continued business operations, but also scaled down to make client and team member safety a top priority," explains CEO and founder Christopher Sterle. "With virtual sales appointments, we can virtually consult on installing or upgrading wireless networks, security features, alarm systems and monitoring systems to remain safe during these uncertain times, as well as centralize home and office audio video distribution. Clients are also able to connect with certified technicians to schedule repairs or troubleshoot existing systems."
In short, virtual appointments allow sales consultants and technicians to address and discuss a client's network, security systems and audio video needs in order to remain connected, safe, and entertained while adhering to social distancing mandates.
Sterle explains that while businesses and schools continue to operate remotely, at-home network infrastructure, safety systems and audio video distribution may not operate at their full potential. "Connecting via video chat enables us to survey potential client needs, as well as walk current clients through troubleshooting steps in case we are unable to be there in person," he explains.
As the exclusive home automation and security partner for Toll Brothers and other home builders, virtual appointments are available for new homebuyers interested in discussing home automation and security systems while design centers are closed.
For more information or to schedule an appointment via Skype, Zoom or Facetime, call 702-648-7474 or visit www.ADSLV.com.
About Acoustic Design Systems:
Founded nearly two decades ago, Acoustic Design Systems (ADS) is the industry leader in commercial and residential home automation and security solutions. With 45 expert technicians and 25 service vehicles, ADS specializes in providing revolutionary, custom-designed solutions to fit every lifestyle, including integrated room controls, audio and visual entertainment systems, security and monitoring systems, fire systems, controlled access, acoustic panels, thermostat control, lighting and shade control and much more. The company offers support from start to finish, including design consultations, installation and tech support.
ADS is the exclusive home automation and security partner for Toll Brothers and has partnerships with William Lyons Homes, Jewel Homes and Pardee. ADS has worked on several commercial projects throughout Las Vegas including at Las Vegas Design Center, Caesars Entertainment and SouthBeach Apartments. For more information, visit www.ADSLV.com, and follow on Facebook, Twitter and Instagram.