Company expansion includes internal promotions, new hires and creation of new division dedicated to Custom Home Systems Design
Las Vegas, Nev. – Acoustic Design Systems (ADS), Las Vegas' industry leader in commercial and residential home automation and security solutions, has restructured and expanded its executive and management teams with both internal promotions and a new hire. In addition, ADS has formally established a new division specifically dedicated to systems design for custom homes, due to the company's history and accelerated growth in this space.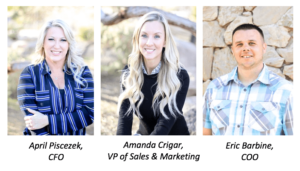 To accommodate the company's rapid growth, April Piscezek, former Controller, is now the Chief Financial Officer; and previously in the role of Director of Marketing & Business Development, Amanda Crigar, has been appointed to Vice President of Sales & Marketing. The company expanded its executive and management team by promoting Eric Barbine from Installation Manager to Chief Operating Officer, Brandon Banova from Service Manager to AV Installation & Service Manager, and John Brennan from an office administrator to Facilities & Fleet Manager. ADS also hired a new Systems Designer, Ryan Wellman.
Wellman, a Las Vegas native brings a diverse background with extensive experience to the ADS team. Born and raised in Las Vegas, Wellman studied record engineering and music industry business and is a Certified Recor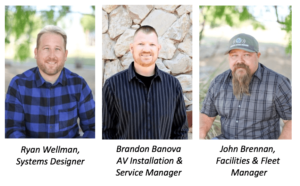 ding Engineer. He previously served as the Lead Audio Tech for a major Las Vegas resort and casino, where he later transitioned to the role of In-House Music Director.
Along with a 20-year history in Las Vegas specializing in servicing hundreds of custom home clients, the recent growth of the local high-end housing market drove ADS to create a formal division of the company exclusively dedicated to the needs of custom home builders and home buyers. The Custom Home division marks the seventh division for the company, which also includes Installation, Service, Alarm, Production, Commercial and Fire Monitoring.
"We are grateful and excited for the growth we have been experiencing and the opportunity it allows us to expand not only our team, but add new company divisions and services as well," said Christopher Sterle, founder and CEO of ADS. "We have a team in place that provides a diverse design background and unique level of expertise to ADS that's deep rooted with strong community and industry relationships."
More information about Acoustic Design Systems is available by calling 702-648-7474 or visiting www.ADSLV.com.
About Acoustic Design Systems:
Founded nearly two decades ago, Acoustic Design Systems (ADS) is the industry leader in commercial and residential home automation and security solutions. With 45 expert technicians and 30 service vehicles, ADS specializes in providing revolutionary, custom-designed solutions to fit every lifestyle, including integrated room controls, audio and visual entertainment systems, security and monitoring systems, fire systems, controlled access, acoustic panels, thermostat control, lighting and shade control and much more. The company offers support from start to finish, including design consultations, installation and tech support.
ADS is the exclusive home automation and security partner for Toll Brothers and has partnerships with Taylor Morrison, Templeton Development and TriPoint Homes. ADS has worked on several commercial projects throughout Las Vegas including at Las Vegas Design Center, Caesars Entertainment and SouthBeach Apartments. The ADS leadership team is actively involved with a number of local and industry organizations, including CEDIA, CEA, Southern Nevada Home Builders Association, NAIOP of Southern Nevada, Henderson Chamber of Commerce, and the National Advisory Board for SnapAV. For more information, visit www.ADSLV.com, and follow on Facebook, Twitter, Instagram, and LinkedIn.