Acoustic Design Systems expands services to meet increasing consumer demand for decorative acoustic paneling – functional design elements that improve sound by shaping indoor acoustics.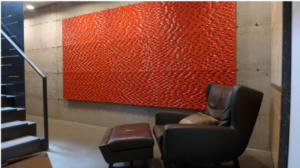 Las Vegas, Nev. – Acoustic Design Systems (ADS), Las Vegas' industry leader in commercial and residential home automation and security solutions, has officially launched an acoustic panel division to accommodate client and consumer demand.
Growing in popularity as an on-trend, functional interior design element, acoustic panels treat the sound in a space to improve voice articulation and music fidelity while reducing noise control in any style or size room. ADS custom designs decorative acoustic panel layouts to serve as both an audio solution and as living artwork, adding a functional design element to any space.
Depending on a room's audio dynamics, ADS custom designs a combination of absorption and diffusion panels to effectively absorb sound waves and quickly decay the total sound field within the space. Incorporating vertical acoustic panels in a space improves speech clarity, reduces sound propagation and eliminates disturbing flutter echoes, even with the addition of just one panel.
In addition to a number of high-end residential home projects, ADS has installed acoustic panels at commercial properties including the Eastside Cannery Casino Hotel, Toll Brothers Sales Offices and at the UNLV School of Music practice rooms.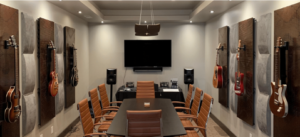 Acoustic panels are available in a variety of colors, styles and textures including handcrafted, artistic wood and rich fabrics. Panels can provide sound proofing to completely eliminate noise overflow and echoes from high ceilings, large glass windows, concrete walls, tile rooms or hardwood floors, as well as help with noise bleed from children's playrooms or office chatter in small spaces. To view the image gallery of acoustic panels, visit https://adslv.com/projects/acoustic-panels/.
About Acoustic Design Systems:
Founded nearly two decades ago, Acoustic Design Systems (ADS) is the industry leader in commercial and residential home automation and security solutions. With 45 expert technicians and 25 service vehicles, ADS specializes in providing revolutionary, custom-designed solutions to fit every lifestyle, including integrated room controls, audio and visual entertainment systems, security and monitoring systems, fire systems, controlled access, acoustic panels, thermostat control, lighting and shade control and much more. The company offers support from start to finish, including design consultations, installation and tech support.
ADS is the exclusive home automation and security partner for Toll Brothers and has partnerships with William Lyons Homes, Jewel Homes and Pardee. ADS has worked on several commercial projects throughout Las Vegas including at Las Vegas Design Center, Caesars Entertainment and SouthBeach Apartments. For more information, visit www.ADSLV.com, and follow on Facebook, Twitter and Instagram.