Acoustic Design Systems expands commercial offerings with new company division.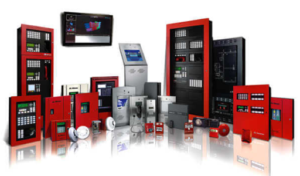 Las Vegas, Nev. – Acoustic Design Systems (ADS), Las Vegas' industry leader in commercial and residential home automation and security solutions, has officially launched a fire systems and monitoring services division.
Expanding the company's commercial offerings, the new division provides consumers with state-of-the-art fire detection systems and a range of services from installation, integration, maintenance service and wireless monitoring to alarm activation and more. Fire systems can be integrated to work together for automated control.
ADS equips educational, commercial and industrial client facilities with fire systems from Honeywell Fire, Hochiki, Firelite, Farenhyt and System Sensor. All systems contain cutting edge technology and building safety interfaces.
Of the systems offered, Silent Knight is Honeywell Fire's most cost effective non-proprietary system and the leader in the fire alarm industry. Available as conventional and addressable systems, Silent Knight contains customizable options and advanced features to meet continuously evolving code requirements and flexibility for future expansion.
"We pride ourselves in having the most versatile and up-to-date systems available for consumers," said Christopher Sterle, CEO and owner of ADS. "Whether you need a small conventional fire system or a large intelligent system, the certified and trained professionals on our staff keep them current and running properly in case of an emergency."
For more information on fire systems, or to receive a quote call 702-648-7474 or visit www.ADSLV.com.
About Acoustic Design Systems:
Founded nearly two decades ago, Acoustic Design Systems (ADS) is the industry leader in commercial and residential home automation and security solutions. With 45 expert technicians and 25 service vehicles, ADS specializes in providing revolutionary, custom-designed solutions to fit every lifestyle, including integrated room controls, audio and visual entertainment systems, security and monitoring systems, fire systems, controlled access, acoustic panels, thermostat control, lighting and shade control and much more. The company offers support from start to finish, including design consultations, installation and tech support.
ADS is the exclusive home automation and security partner for Toll Brothers and has partnerships with William Lyons Homes, Jewel Homes and Pardee. ADS has worked on several commercial projects throughout Las Vegas including at Las Vegas Design Center, Caesars Entertainment and SouthBeach Apartments. For more information, visit www.ADSLV.com, and follow on Facebook, Twitter and Instagram.