With school back in session, student safety and support is a priority – not just in school, but at home as well. Whether your student is returning to the classroom, or learning from home, you can ensure your home is safe and secure with the latest smart home technology.
With security cameras and alarms, you can keep your family protected at all times. From keeping an eye on your home remotely to being alerted on break-ins and potentially life-threatening problems, you can keep an eye on your place no matter where you are.
Want to know when your child leaves for school and returns home? Install a smart door lock, a smart door station with camera, or activate your remote garage app! When equipped with remote access, you can open your front door and garage without a physical key, anytime. Plus, giving everyone in your house a unique access code allows you to see who opens the door – and when – with a digital data log.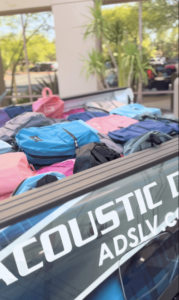 Safety doesn't have to end there, especially if you're planning an end of summer pool party. With the right smart home technology, you can keep your pool and spa secure while also turning them off and on remotely.
When it comes to supporting local schools, you can be sure Acoustic Design Systems is helping out! Every year, we look forward participating in the summer backpack drive with our homebuilding partner Toll Brothers, to support the Las Vegas youth community. This year we donated over 100 fully-stocked backpacks to the CASA Foundation!
For more information on securing your home with smart technology, or to schedule a consultation with one of our System Designers, call or text us at 702-648-7474.