Anxiously waiting for warmer weather? With spring quickly approaching, and summer following shortly after, now's the perfect time to get your backyard ready for leisure and entertainment. One of our most recent projects did just that: provided a family with a backyard glow-up that's ready for anything!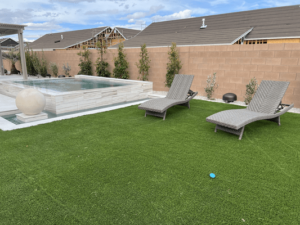 Equipped with a total of 16 speakers and six subwoofers from our product partner, Origin Acoustics, our client's ordinary backyard transformed into an entertainment oasis in a little under one day. We installed 10  Ambisonic Landscape Speakers, the next generation of high-performance landscape loudspeakers; four Origin Acoustics Bollard Speakers which are designed for long-lasting outdoor installation; six 8" in ceiling speakers; four  Ambisonic 10″ Subwoofers and two Amibisonic 12″ Subwoofers to provide low, clear bass tones, even at low volumes.
Integrated together with their whole-home automation system by Control4, the homeowners have complete control not only of their house, but their entire backyard, including their landscape lighting, hot tub and pool!
With over 50 expert technicians and 30 service vehicles, Acoustic Design Systems is proud to provide the Southern Nevada community with revolutionary, custom-designed solutions for commercial and residential home automation and security. For more information on outdoor smart technology or to schedule a consultation with one of our System Designers, call or text us at 702-648-7474.