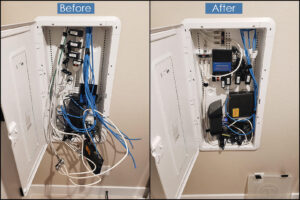 Are you embarrassed and angry every time you open your hall coat closet and see nothing but wires and equipment hanging out of the wall? You are not alone! It seems like every time a contractor goes into a structured can closet, they get the work done but leave a bigger mess than last time. This is where we come in. As expert technicians, we are not only paid to get the job done, we are paid make it look pretty!
As the centralized location for distributing all of your home's Smart Home technology, it is important to keep your structured can clean and organized for future serviceability and equipment longevity.
Whether or not we helped wire your home, our certified technicians can clean up your structured can to give you your closet back.
For more information on smart home structured cans or to schedule a clean-up, call or text us at 702-648-7474.